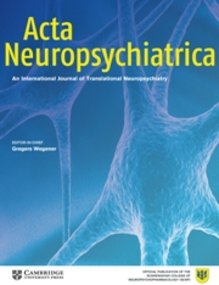 Acta Neuropsychiatrica is an international journal focussing on translational neuropsychiatry. It publishes high-quality original research papers and reviews. The Journal's scope specifically highlights the pathway from discovery to clinical applications, healthcare and global health that can be viewed broadly as the spectrum of work that marks the pathway from discovery to global health. The steps of translation that are within the scope include:
fundamental discovery
bench to bedside
clinical trials
translation to clinical guidelines
health policy and usage
global health.
Research covering molecular biology, genetics, pharmacology, imaging and epidemiology is welcome as it contributes to enhancing the field.
Full text access to all papers HERE (SCNP members only)
All scales can be used free of any charge for academia. For industry use, please contact SCNP.
The UKU* side effect rating scale – clinician rated
The UKU* side effect rating scale- patient rated (SERS-PAT)
The UKU* Consumers satisfaction rating scale
* UKU is an acronym for the Danish name "Udvalg for Kliniske Undersøgelser" (Task force for clinical investigations). UKU was a SCNP task force working with the development of rating scales and methodological issues in relation to psychopharmacological research.